As one of the most renowned manufacturers, we, Poonam Plastic Industries have supported our customers in the best ways possible. We offer a wide range of high quality products such as PP Twine, PP Strap, PP Baller Twine, PP Strapping Twine, PP Stitch Twine, PP Mono Rope, PP Twisted Rope, HDPE Mono Rope etc. We receive bulk orders on regular basis as our products are in demand. To attend customers, we have hired a team of professionals which gives its best to fulfill the requirements of clients. From receiving orders to dispatching the consignments, our employees are extra careful so there is no chance of any mistake. Fortunately, we have never received any complaint regarding that, even our customers have always provided us with positive feedback. They appreciate improvement in our services as well as the quality of our offerings. For us, their trust and confidence in us is of great importance.

Why Obtain Products from Us?
We consider customers' feedback very seriously as they have always helped us improve and grow. According to clients associated with us, they have never received such range from any of their previous manufacturing partners. As an expert, we know and understand what people expect from the products. We take care of individual needs of clients. Following are some of the reasons because of which clients only like to obtain products from us:
Quality tested products
High quality packaging
Reasonable prices
Timely delivery services


Our Quality Control Policy
To manufacture an incomparable range, high grade raw material is essential. We procure that from the well-known suppliers after checking its quality. The second step to ensure that what we supply is great in terms of quality, which is confirmed through a rigorous quality testing process of the end products. For that we have set up a separate panel where the products are tested on different parameters under the supervision of experts. They make sure that the items are flawless as well as are perfect in terms of size, shape and design. After they approve the assortment, it is sent for packaging to be finally dispatched.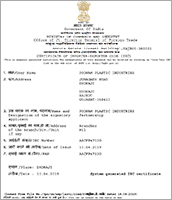 Read More